Monday was probably the first and last day that my dad will ever give me a blank cheque. *sad panda* I went up to the university to finalize my registration and pay for my summer classes, so that's why dad gave me a blank cheque. I now have my official university ID and bus pass, so that'll come in handy. I can get as many bus rides as I need and also student discounts on things. Now I can say I'm going to University. I've never been able to do that before. :D
In celebration I went clothes shopping and bought three new nice summer t-shirts. But the best part was that I didn't have to pay any money. I had a gift card from Christmas stuffed away in my wallet that I had forgotten about.
So NBC finally gave
Heroes
the boot. Personally I am glad, but if you had told me I would feel that way three years ago I would have slapped you in the face. It was getting so painful to watch the character assassinations, the same story lines and just all over badness. I mainly continued with the last season because mum still enjoyed the show, but even she noticed that it had changed and not for the better. It does make me sad since season one is one of the best pieces of TV that I have ever watched. I did enjoy season two a lot, but once season three kicked in... yeah, not so much. I also got sick of them just continuing killing Nathan. He was one of my favourite characters, a fan favourite as well, but it was like the writers were like 'what can we do to make it suspenseful/cliff hanger-y? Oh! I know, let's kill Nathan! LOL'. Honestly, how many times can you kill one character on a show? Anyway, that's about all I'm going to say about it. For me my
Heroes
will be season one, which I know a lot of others it's the same deal.
Last week my dad puppy and house sitted for one of his good friends while they went on a cruise. Anyway, the weather was so gorgeous, so after my volunteer work he took me and Trevor (the dog) to Second Beach and their concession stand for lunch and then we walked around Lost Lagoon. Being spring time there were lots of animals out and lots of baby duckies!!! :D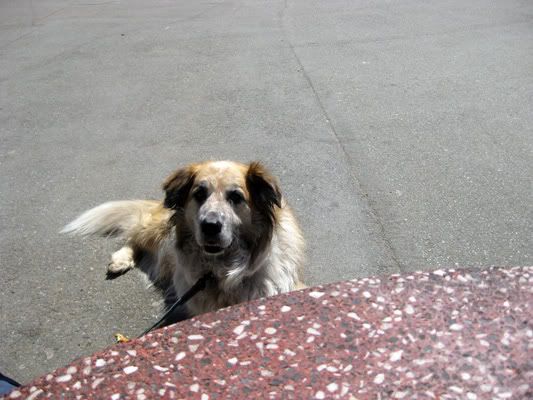 This is Trevor, he's a Great Pyrenees/Collie mix. He was named after Trevor Linden, one of the most awesome Vancouver Canuck players ever (yes, we like our hockey here).

( baby duckies! )